Characters
Media
Featured Article

Kahina the Seer was being chased through the Brazilian Rainforest by Black Manta, hoping that Ya'Wara would help her. The villain was able to ambush her despite her visions after she dodged the dart but didn't see that it was explosive, then they battled. Black Manta defeated, unveiled and told her that he will kill Ya'Wara, he will kill the Others and finally he'll kill Kahina's family. The seer cried, horrified, but Black Manta butchered her and stole the Seal of Clarity, an Atlantean artifact that the seer had and then left the body. Before she died, she has a last vision of Black Manta killing Aquaman. Ya'Wara found her dead body later and attacked Stephen Shin, thinking that he sent Manta after Kahina.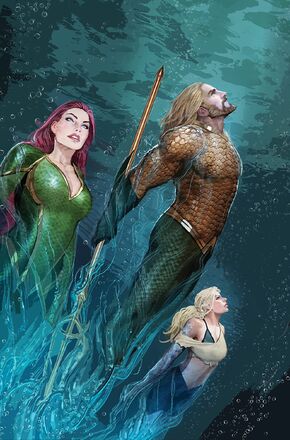 Categories
What's new on Aquaman Wiki
Blogs
If there was to be an Aquaman game either in the Injustice style or something else, what characters would you like to be in it?
Spike511
•
Continuity and canon are extremely important to a wiki site. Was Aquaman the son of Arthur Curry or Tom Curry or Atlan? Was his mother a princess of Atlantis or just some Atlantean girl? Did he get his powers from his ancestors or was he a mutant? W…
See more >