"Aquaman! Swift and powerful monarch of the oceans with his ability to summon and command all the creatures of the deep! Aquaman! Who, with his teenaged ally, Aqualad, guards and defends all that lives in the seas against the forces of evil! Aquaman, king of the seven seas!"
Aquaman
General Information
Format:
Animated TV Series
Created by:
TBA
No. of Series:
1
No. of Episodes:
36
Duration of Episodes:
30 mins
Starring:
Marvin Miller
Bud Collyer
Jerry Dexter
Aquaman is a Filmation animated series that premiered on CBS on September 9, 1967, and ended June 1970. It was a 30-minute version of The Superman/Aquaman Hour of Adventure, repackaged without the Superman and Superboy segments. The show was comprised of previously-aired adventures featuring the DC Comics superheroes Aquaman and his sidekick Aqualad, the Atom, the Flash and Kid Flash, the Green Lantern and Hawkman. The Justice League of America (Atom, Flash, Green Lantern, Hawkman and Superman) and Teen Titans (Speedy, Kid Flash, Wonder Girl and Aqualad) were also featured in team adventures.
DVD release
Edit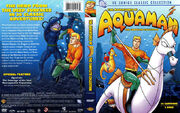 Aquaman episodes can currently be seen as part of Cartoon Network's Boomerang. In 1985, Warner Home Video released eight selected Aquaman episodes of the series on VHS in the "Super Powers" video collection along with Batman, Superboy and Superman. These videos were rereleased in 1996 and are now out of print. On October 23, 2007, Warner Home Video released The Adventures of Aquaman: The Complete Collection on DVD in Region 1; the 2-disc set features all 36 Aquaman segments from the series, as well as a retrospective featurette called Aquaman: Sovereign of the Seas.
External links
Edit
Community content is available under
CC-BY-SA
unless otherwise noted.